3. Usage
This Chapter deals with some features of pyGCluster and explains the basic usage.
The following examples are executed within the Python console (indicated by ">>>" ) but can equally be incorporated in standalone scripts.
pyGCluster is imported and initialized like this:
>>> import pyGCluster
>>> cluster = pyGCluster.Cluster( )

3.1. Clustering
3.2. Clustered data visualization
Prior clustering several parameters have to defined in order to control, e.g. memory usage. This is done by the kwargs 'minSize_resampling' and 'minFrequ_resampling'. Normally, it is not obvious how many clusters and communities are finally obtained. Therefore the user can specify how many of the top X clusters should be taken into consideration for plotting. Obviously, one can not specify a minimum cluster size smaller than the original cluster input parameter.
3.2.1. Communities assignment
The communities can be plotted using different options. Prior any visualization scripts the communities have to be specified.
This can be done by the pyGCluster.Cluster.build_nodemap() function.
This command create communities from a set of the top 0.5% most frequent clusters with a minimum cluster size of 4:
>>> cluster.build_nodemap( min_cluster_size = 4, threshold_4_the_lowest_max_freq = 0.005 )

Note
These values can be modified in order to vary the community number and composition, the higher the threshold, the less clusters are included, i.e. the quality/stringency is increased.
3.2.2. Write DOT file
Create the DOT file of the node map showing the cluster composition of the communities. A filename can be defined and the number of nodes for the legend. The function pyGCluster.Cluster.write_dot() can be used:
>>> cluster.write_dot( filename = 'example_1promilleclusters_minsize4.dot',\
... n_legend_nodes = 5 )

The DOT file can be used as input for e.g. gephi and a nodemap can be build.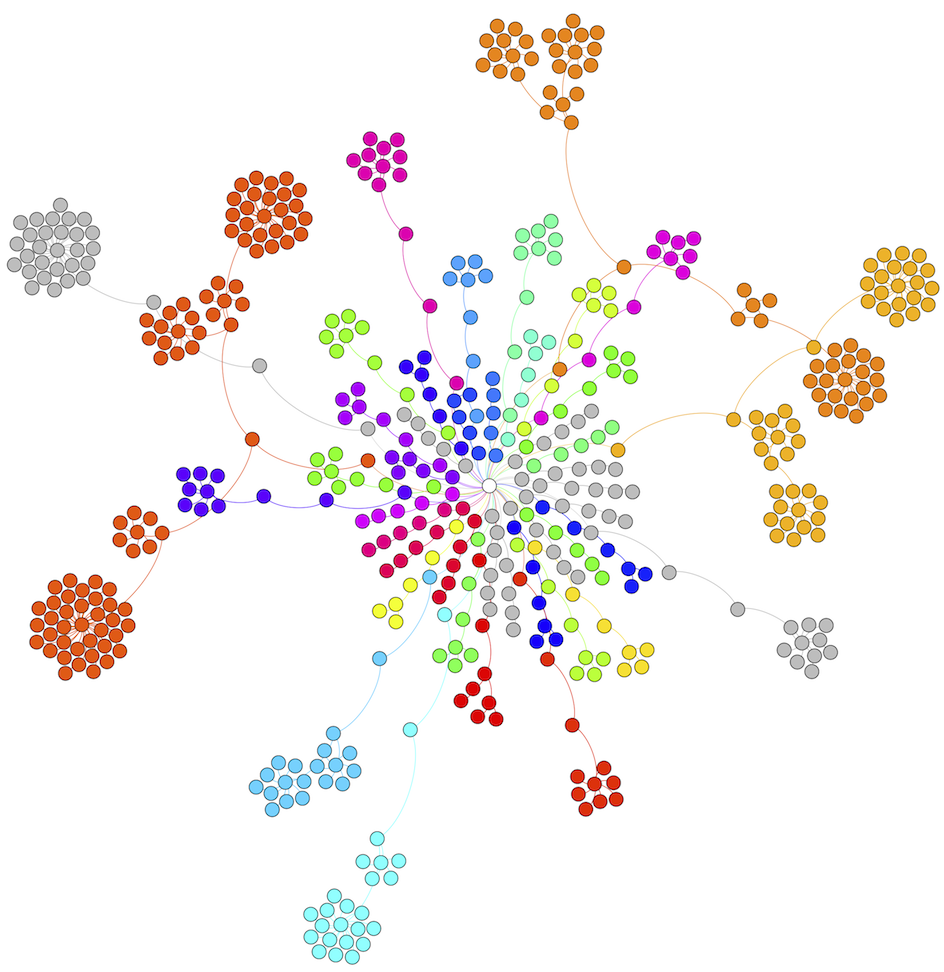 3.2.4. Plot expression profile
Expression profile can be plotted for every community, to further visualize the overall regulation of all objects in this community, by using the function pyGCluster.Cluster.draw_expression_profiles():
>>> cluster.draw_expression_profiles(
...     min_value_4_expression_map = -3,
...     max_value_4_expression_map = 3
... )

An example of an expression profile is given below.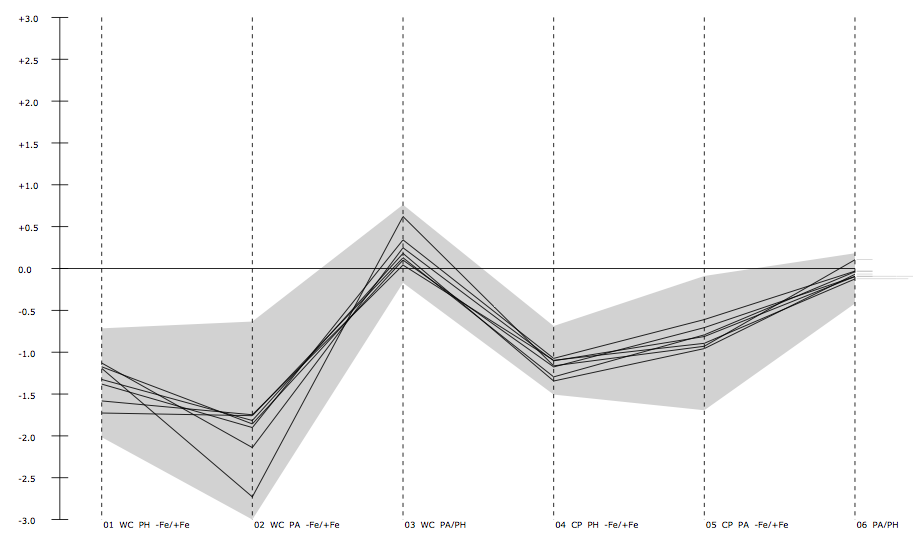 3.2.5. Plot cluster frequencies
Frequencies of clusters can be plotted using the pyGCluster.Cluster.plot_clusterfreqs() function, which also draws a own legend:
>>> cluster.plot_clusterfreqs( min_cluster_size = 4, top_X_clusters = 33 )

The cluster frequency plot is given below.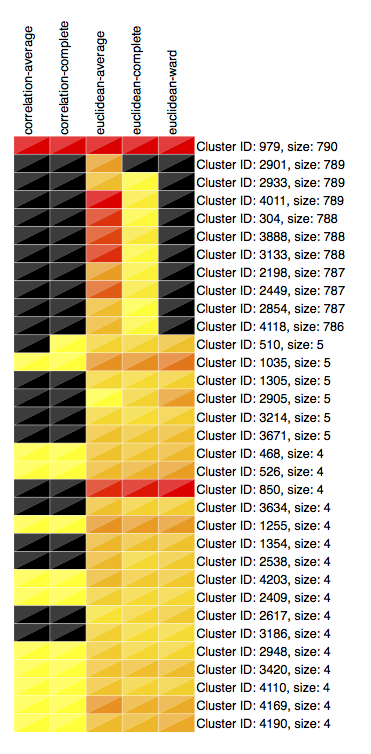 3.2.6. Save results
It is possible to store the modified pkl file again and save the results for further processing steps:
>>> cluster.save( filename = 'example_1promille_communities.pkl' )

Warning
One should be careful about editing essential stuff in the object like the 'Data' entry, because it will be overwritten, once saved.